We warmly encourage the participants to choose on-site accommodation, in comfortable student rooms, which are located a few steps from the ENSTA main building where the conference will take place.
Note: Only 2 minutes walk from your bed to the conference room! (a bit less if you are late)
On the one hand, this will allow us to enjoy together convivial evenings (dinners and social activities will be held on site). On the other hand, the ENSTA campus is relatively isolated and there are only few hotels and restaurants around.

Description of the rooms (included only in the full-board fee)
Every room has a single bed, a desk, a private bathroom with a toilet, and a little kitchen (note that you will likely not use it because all the meals will be provided by the conference organization). One towel will be provided. Cosmetic products (e.g. soap/shampoo) will not be provided. WIFI is available.
Note: It is not possible to share rooms.

Activities in the area
Social activities will be proposed all along the week (see the "Social program" page). In addition, you may consider the following options:
ENSTA Paris is right next to the forest of Palaiseau and the Eugène Chanlon park, which are ideal for jogging, running and walking (see below three possible trails).
At a walking distance:
There are some bars near the RER station "Massy-Palaiseau".
Finally, it is possible to go to Paris by taking the regional train RER B.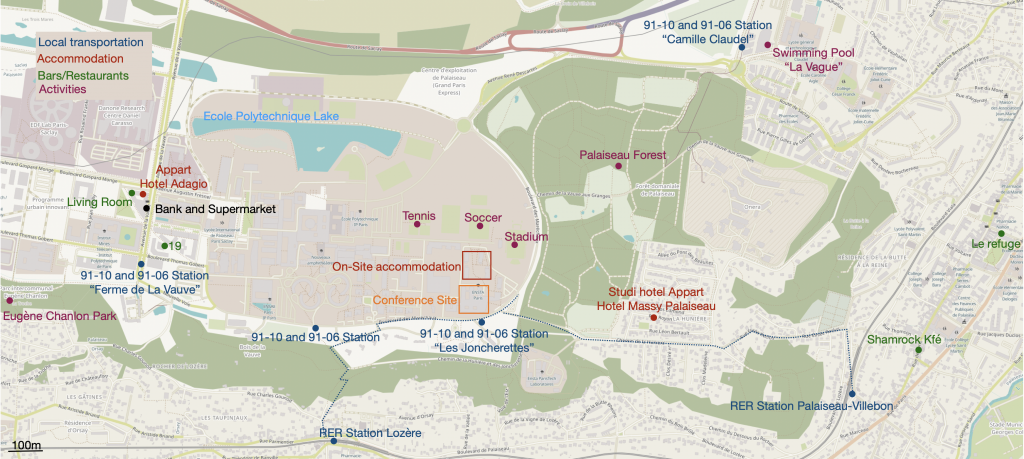 (Click here to download in PDF)
Walking/jogging trails in the area